Carne Creek Valley - 6 April 2013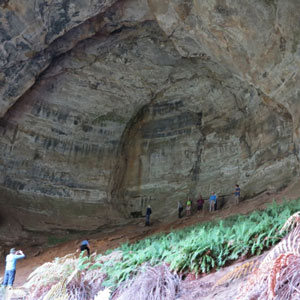 The group: Chris (leader), Kate, Karin, Margaret, Don, Roger, John, Rogo, Joe and Noel.
We set off from Sunnyside Ridge Road down an unnamed fire trail before going off-track to the descent point above a watercourse that runs down the side of the site that contains the Cathedral Cave. A tape was set for the final section as the rocks were steep and covered in moss. The cave is approximately 30 metres wide, deep and high - a spectacular site unfortunately situated just outside the national park and therefore unprotected. We had left Blackheath about 2.5 hours before so we spent a half hour there having Morning tea and taking in the glory of it.
From there we crossed to the Western side of the creek and again used the tape this time to climb. The ferns and grasses in this area are thick and waist high so we headed straight up under the cliff line where the walking was much easier, comparatively speaking. We got through to the valley floor and bike track in about half an hour which was very good going.
A lookout at the end of the ridge was our next stop before crossing a small feeder creek to get up under the cliff line opposite, from there we walked around to the Aboriginal occupation site, entering via a slot we saw a chock stone seemingly supported by two sticks. The evidence of the sites previous use is a stone that was used to grind seeds and the remains of many years of fires.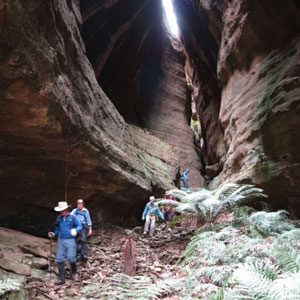 We walked via a currently dry pool that seems to be supplied with water via a slot with many levels each containing shallow pools of water. There would have to be significant rain for an extended period to fill the pool. Onto the furthest part of the walk, a slot about 60 metres in length that is capped by a chock stone, as Michael Keats put it on a previous walk "Walking in it is a unique experience. If you wanted to film a journey to the centre of the earth, this would be a great way to start." We stopped here for lunch as Karin was looking dangerously hungry. The slot had been visited before when John had left his mark after trying to rearrange the cliff line with his head.
Retracing our path we visited the Star Cavern, a cavern with a slot in the roof and two balconies at it's entrance, really spectacular. There was much discussion about the possibility of climbing out, but sensibly no one took up the challenge. We stopped off at the Fallen Rock cave on our way back to the lookout we had passed earlier and climbed out of the valley via the pagodas, a path Kate, John and Joe had used before.
It was a great day, thanks to all who came.