Kanangra Walls to Moorilla Deck - 30 Mar - 1 Apr 2013
The group - Peter (leader), Karin, Don and David.
Moorilla Deck is a flat rock platform in the High Gangerang and offers spectacular views of the Wild Dogs, the Coxs River Valley and across Mt Cookem to Sydney.
Route:
Day 1 - 13k - Kanangra Walls to Karrung Top camp site
Day 2 - 10k - Karrung Top to Moorilla Deck and return
Day 3 - 13k - Karrung Top to Kanagra Walls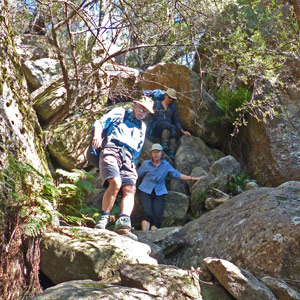 We set off from Kanangra Walls about 8:30 on Saturday morning. Conditions were perfect and visibility was excellent. Even though we made a fairly quick trip across Kanangra Tops we made the most of the views. Our packs were laden with goodies like chocolate brownies, Easter Bilbies and hot cross buns.
We left the track at Mt Berry to climb a slot and enjoy a relaxed lunch from a rock platform with stunning views up and down Kanangra Deep. From Mt Berry we dropped into Gabes Gap, the saddle between Mt Berry and Mt High And Mighty, a very pretty spot. The climb out of the gap is relentless, but before long we were on Mt Stormbreaker, an old favourite of mine, and a great place for afternoon tea.
We stopped for a breather on Mt Cloudmaker before heading down to Dex Creek. The track to Dex Creek from Cloudmaker was as vague as ever.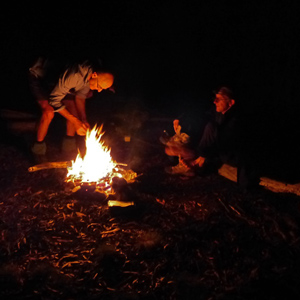 We arrived at our campsite on Karrung Top, a short distance from Dex Creek just after 4:30pm. It is a great spot, sheltered, with plenty of fuel and water. Don, Karin and I had camped here back in 2011. We spent a very pleasant evening around the campfire, turning in shortly after 'bushwalkers midnight'.
Sunday morning was grey and overcast with low clouds looked threatening. The plan was to walk along the western divide from Dex Creek towards Strongleg Ridge and Mt Moorilla Maloo. From there we'd head north-east to Mt Moorilla and then south-east to Moorilla Deck. The return trip to Moorila Deck looked an easy 10k round trip from our campsite.
To be different we headed north from our campsite to intersect the K2K track just west of Carra Top. Once on the track we made good time to the small down climb where Strongleg Ridge meets the High Gangerang. This spot had great views of Mt Moorila, Moorilla Deck and Mt Noora Moorang and the timing was just right for a break. Another party of walkers passed by while we were having morning tea, on their way to Konangaroo Clearing.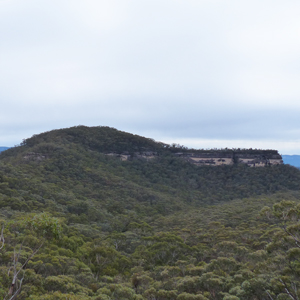 The adventure began when we reached Mt Moorilla Maloo - goodbye track! It was just a short climb to the top where we were rewarded with more views. The route to Mt Moorilla is a narrow penninsular, guarded by cliffs. We found a route up and scrambled to the top, finding ourselves on a broken rock platform with stunning views right and left. We crossed Mt Moorilla quickly and located a route down to Moorilla Deck.
Moorilla Deck is a huge, flat rock platform with absolutely incredible views. What a spot for lunch. And what a spot to dream of other walks in this amazing wilderness area. But all too soon it was time to leave.
We decided to explore the Mt Moorilla cliff line on the return route. There were slots, pagodas, large rock platforms and of course more wonderful views. And for a while the sun came out.
As we neared the neck we found a ramp that led down to the foot of the cliffs . File that away for next time - cliffs are always worth exploring! A short while later we were back on the track and soon back at camp. Mission accomplished.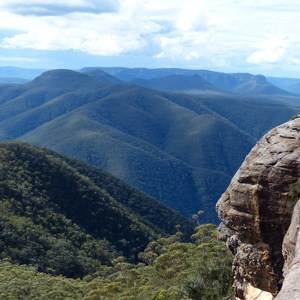 Monday dawned fresh, sunny and clear. Birds were everywhere and singing beautifully. We didn't want to leave but at 9:00am we set off for Kanangra, reversing Saturday's journey and again in no hurry.
We made steady progress back over Cloudmaker, Stormbreaker, High And Mighty and down into Gabes Gap. Before we knew it we were on Mt Berry and having lunch at the lookout on Mt Berry. From Mt Berry back to Kanangra is a beautiful walk on a sunny day like we had. The views just go on and on.
We took a final break above Gordon Smith Pass finishing the last of the excellent chocolate brownies (thank you Dave) and enjoying the afternoon light illuminating the High Gangerang.
We were back at the cars just on 5:00pm.