Rock Island - 13 April 2013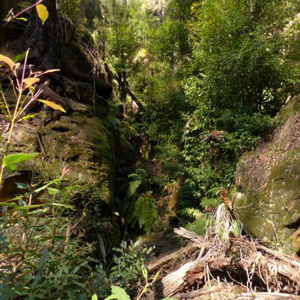 Rock Island is known as an excellent walking area with spectacular views. It was no surprise that 14 enthusiastic walkers - Geoff (Leader), Don, Karin, Roger, Margaret, Joe, Kate, Rod, Sandra, Tracie, Ross, John, Jan and Kaye (guest) - made up our group.
The walk was an attempt to extend the Rock Island walk from the "Gardens of Stone National Park and Beyond" by Michael Keats and Brian Fox, by adding part of Yuri Bolotin's exploration of Henry Creek and Rock Island with the Bush Club.
After parking on the Old Coach Road, the walk began through an area scorched by a recent bushfire. I had some difficulty in locating the entrance to Henry Pass but the descent was completed without a problem.
A welcome morning tea break was taken at "The Beach" in Henry Creek below Little Rock Island. It's one of the best places for a break that you'll ever see.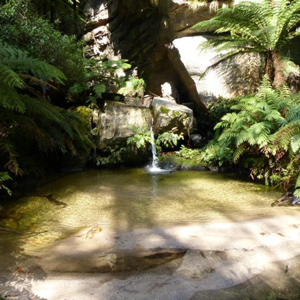 We continued down Henry Creek with massive sandstone walls closing in. I had hoped that we would be able to climb out onto Little Rock Island but our efforts were blocked by a 3m cliff tantalisingly close to the top.
Plan B was implemented.
We would now attempt to climb the unnamed creek between Rock Island and Little Rock Island. It was very tough going with waterfalls, boulders, vines and ferns proving formidable obstacles. Eventually we emerged into the sunlight and followed a gap in the cliffs onto Little Rock Island to take in the unique world of pagodas.
After lunch in "The Valley Time Forgot", a wonderful slot us took up onto Rock Island. Here commanding views of the Deans Creek cliffs and the area surrounding Rock Island greeted us. A leisurely stroll took us to the Northern end of Rock Island. Here a rope assisted drop into a slot was attempted by some the group while others took an alternate route through an easier pass in the cliffs.
We met again at an aboriginal occupation site with excellent examples of hand stencils.
Our return journey up a ridge to the Old Coach Road was accomplished in good time and we reached the cars at 5pm. It had been a long but enjoyable day.