Mt Hay, Venus Tor and Boorong Crags - 22 June 2013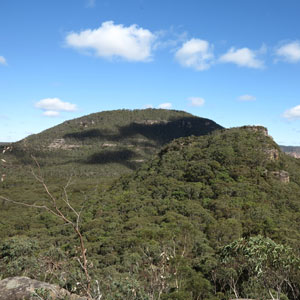 The group: Chris (leader), Geoff, Margaret, Roger, Noel, Damon, Joe, Karin and Don.
We set off from Mt Hay car park at 8.30 under a clear blue sky, no wind but pretty cold. It was a perfect day for views. We stopped a few times going up Mt Hay to take photos, de-layer and at one spot to try to relocate some Aboriginal grinding grooves found on a previous visit.
It is a very well marked track with a lot of rock cairns and even some arrows scratched into the rocks. The path over Mt Hay has rocks and branches hidden amongst the grass which can make it treacherous, the descent is then made via a well worn steep path onto a ridge that runs along the edge of the Grose Valley with views back to Blackheath and across to Mt Banks and Zobel's Gully.
Next stop was the top of Venus Tor. We all made it along the ledge without incident, and spent 20 minutes enjoying Morning Tea, and Don's banana cake, and the views down the Grose and back to Mt Hay, a great panoramic view of several kilometres of the Grose Valley. We went on to the Eastern part of Boorong Crags before doing a quick loop around the top and heading back towards Venus Tor for the off track section of the walk.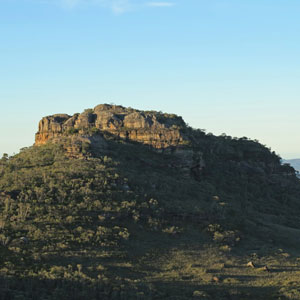 This took us along the ridge on the Northern side of Round Hill Gully, the undergrowth is mainly head high but not very dense or scratchy with some open areas. We went to the descent point used in 2008 at the end of the ridge and looked down at a section that had involved the use of 2 tape assisted drops opposite soaring cliffs. Fortunately we had discovered on a previous visit an easy descent by walking in a Westerly direction around the ridge to what I call "Black Wattle Pass" at 618 766, a steep slope with lots of Black Wattles to hold onto on the way down and no rock scrambling involved, we reached the creek within a few minutes.
This brings you down into Mt Hay Creek, an area worth exploring when summer comes, crystal clear water and pools and moss covered boulders. Geoff had found an exit point previously that took us up to a wind eroded overhang where we had a leisurely lunch, no views just a wonderfully peaceful spot, there is nothing like the silence of the bush.
It's an easy exit up the ridge from here to a rocky outcrop where the group photo was taken. Previously we had walked from here straight out to the fire trail at Hurley Heights but I decided to take a slight detour to check out what looked from overhead imagery to be open heath or swamp. IT WASN'T, waist high grass so thick you could have built a house on it. Worth seeing to ensure we never go there again, however we returned to the bush and headed South to the fire trail.
Before the walk I had mentioned the forecast of rain at 3.00pm and had said that I would like to get back to the cars by then. To my amazement, I mean careful planning, we were back there at a few minutes to 3, the suggestion by a foxy member of the group that we stop for a drink break within sight of the car park was ignored as an obvious attempt to delay us.