The Secrets of Hat Hill - 7 April 2013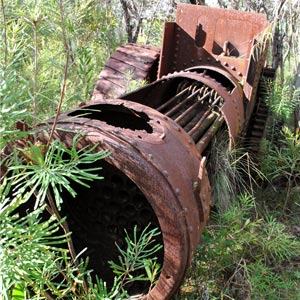 This was a different experience, linking several short walks in the Hat Hill area by driving. Our group of Geoff (leader), Karen, Eve, Steve, Phillip, Layton, Helenia, Gabriela, Douglas, Sharon and Joe consisted of new walkers to the club and some who were getting back into walking.
We set off from Hat Hill car park to the Wallace Steam engine site, visiting a lookout with a spectacular drop into the valley on the way.
Returning to the car park we were soon off to Hat Hill for the longest section of our walks, to Bald Hill. We were very fortunate to have blue sky and perfect Autumn walking conditions. The undulating track provided excellent views.
A morning tea break on the edge of the Grose Valley, gave a glimpse of the saddle leading to Bald Head. The group handled the climb with ease and were soon enjoying a different perspective of Baltzer Head and Rigby Hill.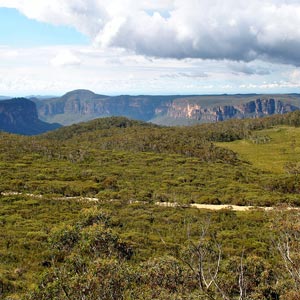 With storm clouds threatening we made a quick retreat to an Aboriginal site close to Hat Hill road where we searched for grinding grooves.
The storm had passed by so we continued to Anvil Rock car park. A little climb onto Anvil Ridge took us to an excellent rock platform overlooking the Grose Valley. A great place for lunch. After exploring Anvil Ridge we descended to the Wind Eroded Cave.
The climb onto Anvil Rock was cut short by light rain which became heavier as we reached the car park. At this point we decided to end the walk. It proved a great decision because our vehicles were lashed by heavily rain and hail as we returned to Blackheath.
Despite the weather it was a really enjoyable day with a great group of people.